Thank you for visiting RV Ramblings, the daily happenings of full-time RVers, James and J, as told by James.
You may share this particular blog entry by referring to www.rvramblings.com/?date=2010-11-04.
Visit www.rvramblings.com to view the latest blog entry. Click here to create a bookmark that will take you to the latest blog entry.
November 4, 2010, a Thursday
Zion National Park, Utah, USA
— My MacBook Pro died, and this is my last post
[You may view a
map of Zion National Park
in PDF form.]
My 15" Apple MacBook Pro (Core 2 Duo) didn't wake up this morning. I put it to sleep last night like usual, and it didn't respond this morning. The screen was black and the status indicator LED stayed on and solid — not good! I tried resetting the SMC (System Management Controller, a chip on the logic board that controls all power functions) and that didn't do anything, neither did resetting the PRAM. I called Apple Tech Support, and they suggested that I take it to the nearest Apple Authorized Service Center, Simply Mac in St. George. I left in the Jeep by myself around 10:30.
I went to the Simply Mac store in St. George and the technician tried resetting the SMC then declared that he'd have to keep the MacBook Pro overnight so he could do further testing. I wasn't a happy camper because we were planning to leave Zion National Park tomorrow.
I had Clif Bars for lunch on my way back to the RV and stopped at the WalMart in Hurricane to pick up some groceries.
I returned to the RV around 1:00 and we left in the Jeep around 1:15.
We headed east along the Zion-Mount Carmel Hwy and stopped to photograph some of the fall color against the red rock cliffs (below left). After photographing from near the road level, I hiked down into the wash at the base of the cliff. The fall color was mostly above me, but I found a great worn boxelder root (below right).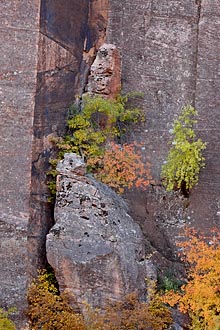 Fall Wall
Zion National Park, Utah, USA
Canon EOS 1Ds Mk III, 100-400 (at 180mm),
1/6 sec, f11, ISO 100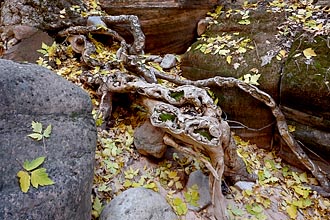 Worn Root
Zion National Park, Utah, USA
Canon EOS 1Ds Mk III, 24 TS II,
3 sec, f16, ISO 100
We returned to the RV instead of heading up the Zion Canyon Scenic Drive because the wind was blowing the leaves around too much. I heard from the service tech at Simply Mac, and he said my logic board was dead. The problem wasn't with the graphics chip, so it wasn't covered by Apple's pseudo-recall, and it would cost about $750 to get a new logic board installed. I said I'd have to think about it, but I wanted the hard drive removed before the case was buttoned back up so I could pick everything up tomorrow morning. By having the hard drive out, I could boot off it using J's MacBook Pro, and it would be almost as good as having my own machine back. J left in the Jeep to go photograph The Watchman from the bridge over the Virgin River near the junction of the Zion Canyon Scenic Drive and the Zion-Mount Carmel Hwy — an iconic image from Zion National Park. I stayed in the RV to borrow J's MacBook Pro to start looking at options to replace my MacBook Pro. The current 15" Unibody MacBook Pros don't have an ExpressCard slot, something I use with an eSATA adaptor to access external hard drives. Some reviewers and critics call the 13" and 15" Unibody MacBook Pro models "Semi-Pro" because they lack the ExpressCard slot — something that lots of "pro" users would use. The 17" Unibody MacBook Pros do have an ExpressCard slot, but I really didn't want to have to get one because I'd have to rework my desk to handle the bigger machine and I'd have to get a new Pelican case, a 1490, to replace my 1470 which would be too small. Within the last few weeks, I had read some reviews of the latest MacBook Pros, and the new Intel Core i7 chips can run circles around the Core 2 Duo chip in my now-dead machine, so at least I'll end up with a nice performance bump with a new machine. I left on foot and ...
Walked to "The Bridge" to meet up with J and about 40 other photographers lined up shoulder to shoulder waiting to photograph The Watchman at sunset. Along the way, I considered options for a new MacBook Pro, and decided that a 17" model would be better than getting a 15" model and then converting my external hard drive enclosures to ones with FireWire 800.
We returned to the RV and had dinner of
Bertolli
Tuscan-Style Braised Beef with Gold Potatoes.
After dinner, I read some of an old
National Geographic
until I could use J's computer to look at options for a new 17" MacBook Pro.
Last Post
Yes, this is my last post. I spent so much time switching laptops that I didn't have time to stay on top of the blog entries. Plus, I had been thinking about stopping the blog anyways, so this felt like a good time to stop. It was a tough decision because working on the blog had become a part of my routine.
Here are a few followup items to close out the blog. I purchased a 17" MacBook Pro with the 2.8GHz Intel Core i7 processor, and so far I'm liking it. Very shortly, I'll have the maximum allowed 8GB of RAM in it, a 500GB 7200 rpm hard drive to hold most of my data, and a 240GB SSD (Solid State Drive) mounted in a special adaptor in place of the optical drive to use as my startup disk with a separate partition for a Photoshop scratch disk.
We've installed the
Xantrex PROsine 2.0
2000W inverter/charger in the RV, and the the charger part of it is working much better than the
Inteli-Power PD9160A
power converter that had come with our RV, mainly because the long run of 6 gauge wire for it was inadequate.
You can continue to follow my photographic activity through
my photography newsletter
and
my photography blog
.